Teilprojekt A08 meldet die 500. SFB 926 Publikation
25.07.2023
< Previous article
---
Die 500. wissenschaftliche Veröffentlichung des SFB 926 wurde am 24.07.2023 von Teilprojekt A08 gemeldet:
David Strohner, Sergiy Antonyuk: Experimental and numerical determination of the lubrication force between a spherical particle and a micro-structured surface, Adv. Powder Technol. 34 (2023).
Wie versprochen spendierte Hans Hasse, der Sprecher des SFB 926, dafür eine Flasche Sekt und überreichte eine Urkunde.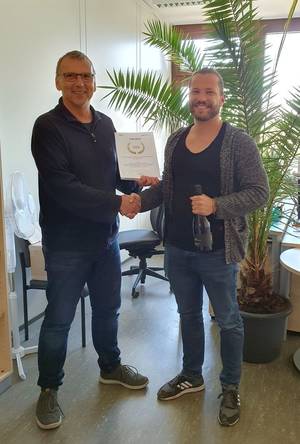 Hans Hasse & David Strohner
---